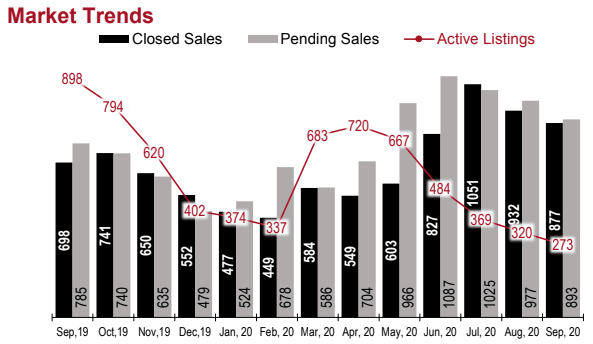 As I talk to people about the Boise, Idaho real estate market, how busy we've been, etc, they wonder how our 'crazy' market is going to effect them.
Well, it depends on whether you are a seller or a buyer!
If you look at the included chart, the red line represents the number of homes on the market in Ada County each month for the last year. You can see that in September of 2019, there were 898 homes on the market — that was considered a 'low-inventory market'. However, at the end of September of 2020 there were only 273!
Typically the number of homes on the market starts going up in February each spring and peaks in July or August. As you can see, that certainly didn't happen this year! And this has resulted in the lowest inventory we've had since I became a realtor 15 years ago.
And that is very good news if you are considering selling your house! As a seller in this market — if you price your home perfectly and are working with an experienced agent who helps you prepare the home properly for sale — you should be able to sell your house quickly, command top dollar, and many times receive multiple offers which gives you the most negotiating power when it comes to price, closing date, and other terms.
If you are a buyer, this market can be a bit more challenging. Sometimes people tell me they don't want to sell their house because they are worried they wouldn't be able to find something to buy. Fortunately, that isn't true for most people! While a sellers' market does benefit sellers more than buyers, what you 'lose' on the buying side is generally made up for by what you 'gain' on the selling side. Just make sure you are working with an experienced agent who can talk with you about timing, financing options, contingent vs non-contingent offers, rent-back options, simultaneous close, and other 'tricks of the trade' to help make the process as smooth as possible for you.
And what if you aren't selling a home but are buying for the first time? This crazy seller's market means a few things for you. First, you need to have all your ducks in a row — ensure you're working with a great agent and have a lender approval letter or 'proof of funds' ready to go. Second, you need to be prepared to act fast — you have to be available to look at a home the day it goes on the market and be prepared to write an offer immediately if you love it. Third, you will likely pay over asking price — homes that are priced right and in good condition are getting multiple offers — make sure you're working with an experienced agent who knows how to help you 'win' in a multiple-offer scenario. And lastly, you may need to make an offer on more than one home in order to get the right one.
In conclusion, while this market is fast-moving and a bit tricky, if you're working with us, we'll ensure that whether you're selling, buying, or doing both, you have the best experience possible!
If you are interested in searching for your next dream home, click here. For more information about selling your home, call us at (208) 327-2127 so we can learn more about your goals.