Jill Giese, CEO & Lead Agent
After a 15-year career in marketing, in 2005 Jill followed her passion for people and homes into the world of real estate and remodeling. Jill runs Jill Giese & Associates at Keller Williams Realty Boise, providing real estate services to buyers, sellers, and investors in southwest Idaho.
Her talented team has assisted 600+ clients and has consistently ranked in the top 50 in the Intermountain Multiple Listing Service out of 5000+ agents.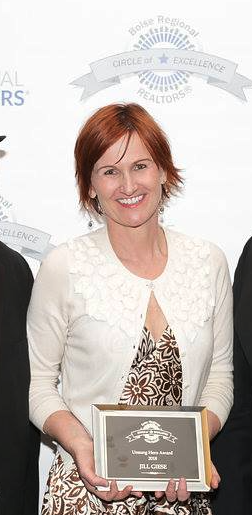 Jill also owns Perennial Home Transformations, JGA's sister company, that assists sellers in getting their homes ready to sell and helps them net the most money possible.
Jill is most proud that her role in real estate allows her to contribute to her community at the highest level. Jill teaches locally and nationally and has a passion for helping others succeed. She believes in unlocking opportunity for each person she meets.
Jill has received Keller Williams Realty Boise's 'Cultural Icon Award' and was named KW Boise's '2018 Teacher of the Year'. She has also received the Women & Children's Alliance's 'TWIN Award' (Tribute to Women and Industry) for her contributions to her company, community, and industry. She was also awarded the 'Unsung Hero Award' from the Boise Regional Realtors Association for her charitable and educational work in the community.
When not helping clients or the community, Jill spends time with her dog Poppy and fluffy cat Whiskers. She loves to hike, bike, ski, camp, go to movies, and hang out with friends. Jill also has a pretty mean set of tools so ask her about the trailer she remodeled to hold them all!